Home > Nahant > Contemporary Poets of Nahant
Nahant: Poetry by the Sea
MAUREEN LYNCH EDISON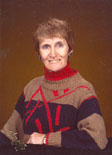 MAUREEN LYNCH EDISON (1934 – ) has lived in Nahant since 1980. She teaches at Northeastern University and North Shore Community College. A Pennsylvania native, she began writing as a graduate student, and has published often in the weekly Columbia Flyer and The Little Patuxent Review. Among her favorite modern poets are Seamus Heaney, Robert Pinsky, and Tom Sheehan. For Maureen Lynch Edison, "Poetry is a means of making rhythmic sense from scattered impressions." In "Short Beach: 2005," the poet arranges her scattered impressions of Short Beach on "fall's first Sunday" to yield an insight about life on Nahant.
See and Hear Maureen Edison read her poem "Short Beach: 2005"
SHORT BEACH: 2005
From a bedroom window
Not long after dawn
On September's last and fall's first Sunday
I watch a ritual in progress
At the beach across the road.
Short Beach just disappeared again.
High tide has staged another takeover
Complete with coverup.
Like everyone else around here
I know enough not to call 911
Or post gains and losses concerning this coup:
Nobody owns the ocean or the sand.

At high tide, waves get to act like sailors granted liberty.
They wear white caps and rush toward piles of rocks on land
Who seem to guard the place haphazardly.
Yet visiting waves rarely trespass
Beyond that barrier.
Instead, waves greet boulders with what sounds like YES.
Ebb tide will get its turn a little later
To murmur what sounds like MAYBE but could be GOODBYE
Before drifting off at a leisurely pace:
Nobody owns the ocean or the sand.

By the time I have breakfast at Captain's
Haven of liberation from my stove
The beach will have a freshly sanded floor
And be ready to walk on again..
But on this September morning,
I find myself longing for summer
And the grandchild who walks with me then..
Although I have aged out of childhood twice
I sneak back in every time she takes my hand.
A glance at the clock tells me musing must cease for today.
Tomorrow I'll resume a vigil here
When the tide is coming in or going out
And think of our immense fortune:
Nobody owns the ocean or the sand.
courtesy: Maureen Lynch Edison