Home > Nahant > Contemporary Poets of Nahant
Nahant: Poetry by the Sea
ROBERT RISCH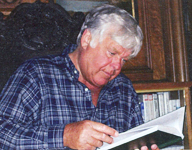 ROBERT RISCH (1941 – ) lives in Nahant near Forty Steps Beach in a house that Charles Hammond Gibson Jr. lived next to. A former vice-president at General Electric in Lynn, he also once owned and operated Maddy's Sail Loft, a restaurant in Marblehead, MA. In 2000, he self-published Glimpses, a collection of poems by his son and himself. He is also the co-author, with Nahant Library director Dan deStephano, of Gems of Nahant: A Guide to Beach Pebbles, from which the poem "Beach Pebbles" is taken. In the poem, Risch's poetic vision is activated by a beach pebble given to him on the Nahant shore by his sons. In 2011, Robert Risch and photographer Robert A. Wilson self-published their collaboration Glimpses: Nahant in Poems and Pictures.
See and Hear Robert Risch read his poem "Beach Pebbles"

Barefoot or in boat shoes
I've stepped on them before
Not thinking where they came from
Just pebbles by the shore.

Spotted and lined and circled
Smooth, rough or red and blue
I saw them only as beach cover
Or an irritant in my shoe.

Until my young sons gave me one
On a sunny day by the sea,
And I looked at it more carefully
And it seemed quite different to me.

How long did it take to get there?
Where was its place of birth?
From the top of some old mountain
Or the fiery belly of the earth?

So now when I go to the beach
I look through different eyes.
Pebbles aren't just for walking on
They are really gems in disguise.
from: Gems of Nahant: A Guide to Beach Pebbles (Nahant, MA) 2003.
courtesy: Robert Risch