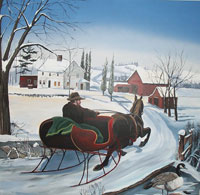 As a poet, an abolitionist, and moral conscience, John Greenleaf Whittier was Essex County's best known, most loved, and most read author of the 19th century. Born in the first decade of the century, 1807, and dying in its last decade, 1892, he was the voice of a county and a nation that awoke to and fought the evil of slavery, and that developed a renewed appreciation for the innocence of childhood, the bonds of family, and the fast fading rural past. The man who was too sickly to be an effective farmer, too poor for more than two terms of secondary school, was assaulted, mobbed, and burned out for his anti-slavery activity, and then given three Honorary Degrees and lionized, as his birthday was declared a holiday, and schools, bridges, roads, public buildings, and even a town and college were named for him. Today his poems are still read and enjoyed, and at least 17 of his more than 100 hymns are sung in Protestant churches world wide. This year of his 200th birthday is a perfect time to reevaluate his poetry as an expression of Whittier as Quaker, Abolitionist and man of Essex County.
Learn more about Whittier's life in Essex County by visiting the Whittier Homestead in Haverhill, MA and the Whittier Home in Amesbury, MA.
And, learn about Whittier's influence on the poetry of Lynn, MA and learn more about the Poetry of Places in Essex County.