SMALL TOWN, WIDE VIEW
By Daniel A. deStefano, Director, Nahant Public Library
Nahant Geography and Geology
Nahant is a small island on the coast of Massachusetts, just north of Boston. Actually, because Nahant is really two small islands, Big and Little Nahant, separated from the mainland by two tombolos (a tombolo is an isthmus that floods at high tide), it is geographically unique. Just over a square mile in total area, the town is separated from the city of Lynn and route 1A (the Lynnway) by a 1.25 mile long tombolo. Forty-acre Little Nahant is closest to Lynn, and is separated from Big Nahant by a quarter mile tombolo. From the time of the Native Americans to the present, many Nahanters have made their living from the sea by fishing, and, during Colonial times, the island served as a source of pine trees, used for wood and pitch.
Today, a paved causeway connects Nahant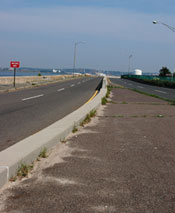 to the mainland. Until 1824, Nahant could only be reached at low tide, and in that year, a wooden cart road was constructed to make travel easier. By 1842, 1,300 cedar trees were set on Long Beach, but these appear to have been posts, not growing plants. The first attempt at a road over Long Beach began in 1847, under the direction of Alonzo Lewis, but great storms in March and April of 1851 rendered the new road impassible. However, since the road had been made by spreading gravel over the loose sand, the storm damage was soon repaired. By 1864, a sea wall was added, extending to Lynn over Long Beach from Little Nahant. By the end of World War I, the town had rebuilt the road over the beaches to the Lynn line in a configuration similar to that of today.
Geologically, Nahant is composed of ancient shale and limestone sea beds, and is part of the 600 million year old Cambrian Era sedimentary Weymouth Formation, the oldest fossil-bearing rocks in eastern New England. Nahant is also famous among geologists for its gabbro, which one may see clearly at Forty Steps Beach. This finger of basaltic magma intruded upward through the ancient limestone beds about 450 million years ago.

Nahant Colonial History
Nahant's Town Seal portrays colonist Thomas Dexter, called also Farmer Dexter, purchasing the island in 1630 from Poquanum, the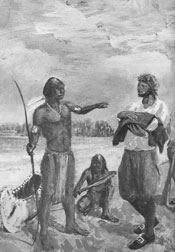 Sachem of Nahant, also called Duke William and Black Will, for a suit of clothes and a plug of tobacco. No one knows for certain what Poquanum, a Native American of rank, believed that he was selling, whether it was the island itself, or merely rights to tap its many pine trees for pitch. The interpretation of this exchange is further complicated by the value of cloth in a land where looms were scarce.
Also in 1630, about fifty families settled the nearby seacoast of King's Lynne, now Lynn. Their sheep, goats and swine were kept in common on Nahant, and tended by shepherds, who apparently lived on Nahant with their families, although today they are not considered as true first settlers. Thomas Graves and Hugh Alley, Sr., who had settled their families on Nahant by 1648, share that distinction.
Lynn's pre-eminent historian, Alonzo Lewis, tells a tale of two colonists who came to Nahant to hunt fowl and separated. One of them killed a seal on a beach and left the carcass to pursue birds. Returning, he found a bear feeding on his seal and shot the thief. But the bear, only wounded, attacked, and the hunter broke his gun beating off the creature. The wounded animal chased the hunter into Bear Pond, where he steeped until his companion rescued him. The Lynn settlers killed the bear the next morning, deeming it unwise to permit a carnivore to roam freely among their herds.
Nahant in the 1800's
The early English settlers encouraged the cutting of trees to make pastures, so that by 1819, not a single tree was left standing on Nahant. It was in that year that William Wood, described as an eccentric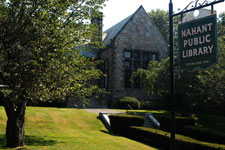 bachelor from Bunker Hill, offered the Town "ten hundred" books to begin a library on Nahant. The town, accepting both his generous offer and his plan, called for each title to be borrowed at a cost of five cents. The money was deposited in a bank in Boston, then withdrawn each year, in order to buy trees and shrubs to provide shade on the barren island. The year of free public libraries arrived in 1872, when the Massachusetts legislature enacted a law to create them. By then, Nahant had trees once more.
During the summers of 1819 through 1824, visitors and local residents were impressed by almost daily sightings of a huge sea serpent, which was reported by dozens and seen by hundreds, between Cape Ann and Boston's South Shore. For those years, "His Snakeship's" appearance was so reliable that people journeyed to the shore in large numbers during July and August to observe the phenomenal creature. Historically, the fabulous animal's presence had been reported during the 1600's by, among others, Nahant fisherman Obadiah Turner, who wrote in his diary: "The Indians say that they have many times seen a wonderful big serpent lying on the water, and reaching from Nahantus to the great rock which we call Bird's Egg Rock."
Originally part of the city of Lynn, Nahant separated in 1853. By then the town already had become a resort for Boston "summer people." By the late 1800's, Nahant boasted fourteen hotels and an amusement area, and a steamboat ferried tourists to and from Boston to its busy pier. Famous residents of that era included poet Henry Wadsworth Longfellow, naturalist Louis Agassiz, statesman Henry Cabot Lodge, historian William H. Prescott, and poet and travel writer Bayard Taylor.
The first lawn tennis game in America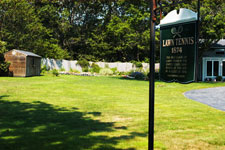 apparently was played near East Point on Big Nahant in August of 1874. One J. Arthur Beebe had brought equipment from England. Two young men, James Dwight and Fred Sears, set up the game and played it. Tennis tournaments immediately became annual events. The popularity of rowing and lacrosse already had led to the establishment of Nahant Sporting Club, an institution that allowed its members to show off, and made them too tired to pursue a life of "intemperance, vice, and crime."
Once a resort town that boasted fourteen hotels, two amusement parks, and the summer cottages of Boston's wealthy,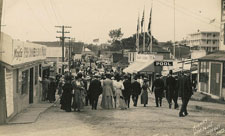 Nahant's attractions began to fade during the late 1800's. Changing fortunes and tastes meant that many of Boston's elite ceased to visit the island. Mrs. Tudor closed the Maolis Gardens, and Nahant's second amusement park, called the Midway, declined in popularity. One by one, the hotels closed, and the once popular resort drifted into modern obscurity.
Frederic Tudor: The Ice King
No account of Nahant's past could be considered complete without mention of Frederic Tudor, considered "The Father of Refrigeration" and called "The Ice King." He made his fortune by inventing a method to ship ice to warmer climates. He sold ice in Bombay, Havana, and Rio de Janeiro, among other destinations, to people who had never seen it before. In a couple of ports some of his customers poured salt on the ice as a preservative, then presented the resultant meltwater to Tudor, and demanded the return of their money. Tudor kept the cash.
Tudor was also famous for planting fruit trees and tobacco in his large gardens on Nahant. Determined to reverse the barren appearance of treeless Nahant, he began in 1834 to give away trees to any Nahanters who would plant them on their property. Around 1859, he opened the Maolis Gardens amusement park, which featured, among other
attractions, a swing taller than a telegraph pole, dancing, flying horses, wheels of fortune, a target rifle range, croquet, tilting boards, a Punch and Judy show, and two dancing bears named "Ben Butler" and "Jeff Davis."
In 1861, near Tudor's gardens, a "rock temple" was erected to enable visitors to observe the ocean and its surroundings from within a majestic stone edifice. Legend has it that beneath the Rock Temple's stone base was a hiding place, used in 1692 by Sarah Hood, who was fleeing the witch trials in nearby Salem. Still standing, the Rock Temple and its vistas are easily seen from Maolis Road.
Modern Nahant
The 1900's brought the two President Roosevelts to Nahant. First, Theodore visited his friend, Senator Henry Cabot Lodge (who was also a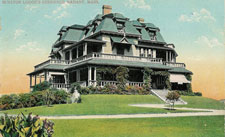 Trustee of the Library) in 1902, and he delivered a speech while being heckled by suffragettes. The next day, the Presidential carriage was struck by a trolley in Lynn, and Theodore Roosevelt was very nearly killed in the accident. In 1938, John Roosevelt wed Anne Clark, the daughter of socially prominent Nahant family. John's father, President Franklin Roosevelt, sailed into Nahant on the presidential yacht Potomac to attend.
During World War II, part of East Point, Fort Ruckman, was armed with 12-inch guns intended to protect the northern approach to the port of Boston. The huge weapons were aimed by a computer that triangulated data received from watchtowers sited along the coastline. These tall, cement sentinels are often mistakenly called "submarine watch towers," but that was merely a secondary function. The guns were fired twice: once shortly after the targeting system was completed, and again in 1946, after the war was ended, and the guns were about to be dismantled. Most residents who recall those days remember blackout drills and loud noises from the great guns that cracked windows and rattled dishes from their shelves.
Still something of a resort town, many tourists visit Nahant today to experience its natural wonders. Geologists come to see some of the earliest fossil-bearing rocks at East Point, the site also of Northeastern University's Marine Science Institute. The island's views of rocks, plants, and ocean still inspire hikers, runners, beachgoers, painters, photographers, and–of course!—poets.