Home > Gloucester > Norman's Woe
Norman's Woe (Gloucester Harbor)
Location, History, and Legends

Location and Description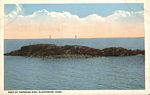 The rock and reef of Norman's Woe are a short distance from the westernmost point of Gloucester's outer harbor. Norman's Woe can best be seen from Hammond Castle on Hesperus Ave., off route 127 in Gloucester.
History and Legends
There is no clear record of how Norman's Woe got its name. Tradition tells that a man named Norman was shipwrecked and lost there, and it is for him the rock and reef are named. John J. Babson's history of Gloucester notes that Goodman Norman and his son settled the headland near the islet.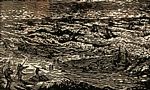 The history of uninhabited Norman's Woe is the history of its many shipwrecks. One noted shipwreck was of the "Rebecca Ann" in March, 1823. In a snowstorm, all ten crewmembers were swept out to sea, and one survived by holding on to a rock in the water. Perhaps the most famous shipwreck at Norman's Woe was of the schooner "Favorite" out of Wiscasset, Maine, in December 1839. Twenty bodies washed ashore, among them that of an older woman lashed to a piece of the ship. Poet Henry Wadsworth Longfellow took that story and named the ship "Hesperus" after a wreck near Boston in creating the legend of "The Wreck of the Hesperus," the most famous "shipwreck" associated with Norman's Woe.