Gloucester Harbor


Location and Description
Gloucester's heart is its harbor. The harbor is the city's greatest scenic and economic asset.
Discovered in 1605, mapped in 1606, and named LeBeauport (the good port) by the famous French explorer Samuel Champlain, Gloucester's large harbor and its proximity to ample fishing grounds have enabled Gloucester to be synonymous with fishing for the last two centuries. Gloucester has thrived on fishing, and even though the industry has declined because of ecological and regulatory factors, Gloucester harbor is always busy and beautiful.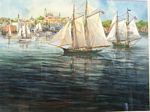 The harbor is located in the southeastern portion of Gloucester. The mile and a half wide mouth of Gloucester's outer harbor is marked on the west by Norman's Woe and on the east by the Eastern Point Lighthouse. Two miles into the outer harbor, a passage between Fort Point and Rocky Neck leads to the sheltered three quarter mile long inner harbor, with the Jodrey State Fish Pier at its center.
Directions to Gloucester Harbor
To drive to Gloucester harbor

- From Essex and West Gloucester, take route 133.

- From Manchester-By-The-Sea, take route 127 north. Route 133 and route 127 meet on the west side of the outer harbor at Stacy Boulevard in Gloucester. The Gloucester Visitors Welcoming Center is nearby the intersection of routes 127 and 133 in Stage Fort Park.

- From route 128, at exit 11, the rotary at Grant Circle, take Washington St directly downtown to Rogers St., which is by the entrance to the inner harbor.

- From Rockport, take route 127 to the end of the inner harbor at the intersection of Main St. and East Main St.
Go to Stop 1 on the Poetry Tour:
Norman's Woe